Your friendly independent, licensed, multiplex cinema in South London and home to the £5.99 cinema ticket.
It Lives Inside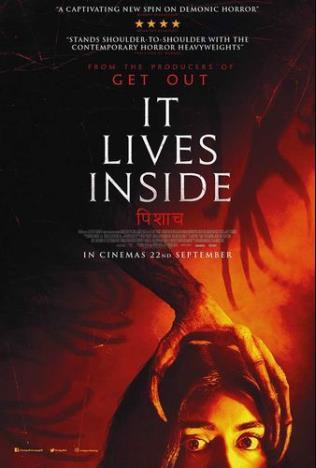 Release Date: Fri 20th Oct 23
Format: 2D Digital
Genre: Drama
Running Time: 1 hour 39 minutes
Rate: 15
strong horror, bloody images
Free List Suspended
Wheelchair/Disabled Access
For more cinema access information
click here.
It Lives Inside Synopsis
Sam, an Indian-American teen, lives in an idyllic suburb with her conservative mother and her assimilated father. Sam's cultural insecurities grow due to her estranged friend, Tamira, who mysteriously carries around an empty mason jar all the time. In a moment of anger, Sam breaks Tamira's jar and unleashes an ancient Indian demonic force that kidnaps Tamira. Sam searches for Tamira, following the trail of a young man who performed a deadly ritual, until the demonic entity starts targeting her, murdering her boyfriend and shattering her reality with terrifying visions. Sam must band together with her parents and a sympathetic teacher to save Tamira and put an end to the terror of the demon.
There are currently no dates/times available for this film.
Cast & Crew
Actors
Betty Gabriel
Beatrice Kitsos
Neeru Bajwa
Megan Suri
Mohana Krishnan
Vik Sahay
Gage Marsh
Producers
Raymond Mansfield
Sean McKittrick