Your friendly independent, licensed, multiplex cinema in South London and home to the £4.99 cinema ticket.
Ron's Gone Wrong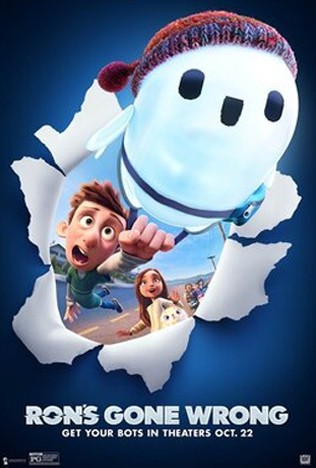 Release Date: Fri 15th Oct 21
Format: 2D Digital
Genre: Adventure
Running Time: 1 hour 47 minutes
Rate: PG
mild rude humour, threat, bullying
Free List Suspended
Wheelchair/Disabled Access
For more cinema access information
click here.
Ron's Gone Wrong Synopsis
Set in a world where walking, talking, digitally connected bots have become children's best friends, Ron's Gone Wrong tells the story of an 11-year-old boy who finds that his robot buddy doesn't quite work.
Cast & Crew
Directors
Alessandro Carloni
Jean-Philippe Vine
Actors
Bentley Kalu
Thomas Barbusca
Ava Morse
Producers
Julie Lockhart
Sarah Smith
Lara Breay