Your friendly independent, licensed, multiplex cinema in South London and home to the £4.99 cinema ticket.
Emergency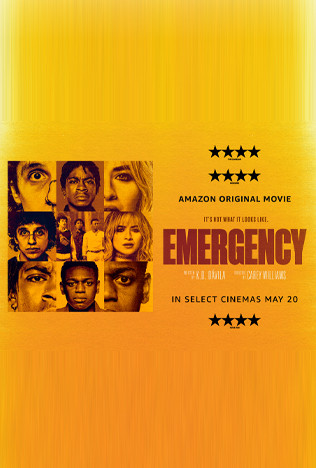 Release Date: Fri 20th May 22
Format: 2D Digital
Genre: Comedy
Running Time: 1 hour 44 minutes
Rate: 15
strong language, drug misuse, racism, threat
Free List Suspended
Wheelchair/Disabled Access
For more cinema access information
click here.
Emergency Synopsis
Ready for a night of partying, a group of Latino college students must weigh the pros and cons of calling the police when faced with an emergency.
Cast & Crew
Actors
RJ Cyler
Sabrina Carpenter
Sebastian Chacon
Donald Watkins
Maddie Nichols
Madison Thompson
Diego Abraham
Producers
Marty Bowen
Isaac Klausner
John Fischer