Your friendly independent, licensed, multiplex cinema in South London and home to the £4.99 cinema ticket.
Lightyear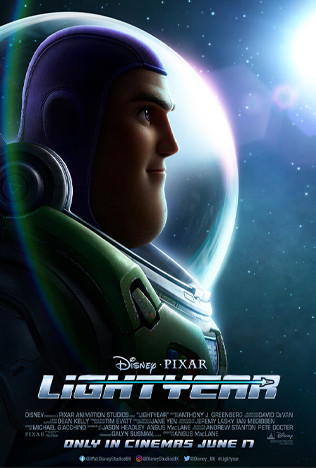 Release Date: Fri 17th Jun 22
Format: 2D Digital
Genre: Adventure
Running Time: 1 hour 45 minutes
Rate: PG
mild threat, violence
Free List Suspended
Wheelchair/Disabled Access
For more cinema access information
click here.
Lightyear Synopsis
A sci-fi action adventure and the definitive origin story of Buzz Lightyear (voice of Chris Evans), the hero who inspired the toy,

"LIGHTYEAR" follows the legendary Space Ranger on an intergalactic adventure alongside a group of ambitious recruits (voices of Keke Palmer, Dale Soules and Taika Waititi),

and his robot companion Sox (voice of Peter Sohn). Also joining the cast are Uzo Aduba, James Brolin, Mary McDonald-Lewis, Efren Ramirez and Isiah Whitlock Jr.

Directed by Angus MacLane (co-director "FINDING DORY") and produced by Galyn Susman ("TOY STORY THAT TIME FORGOT").