Your friendly independent, licensed, multiplex cinema in South London and home to the £4.99 cinema ticket.
Marcel the Shell With Shoes On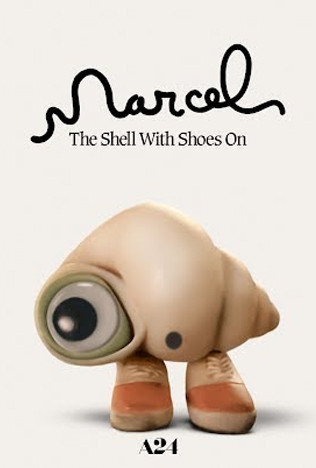 Release Date: Fri 17th Feb 23
Format: 2D Digital
Genre: Adventure
Running Time: 1 hour 30 minutes
Rate: PG
mild upsetting scenes, rude humour, infrequent drug references
Free List Suspended
Wheelchair/Disabled Access
For more cinema access information
click here.
Marcel the Shell With Shoes On Synopsis
When struggling filmmaker Dean (writer-director Dean Fleischer Camp) moves into an Airbnb, he quickly discovers that he is not alone. Marcel (Jenny Slate), an adorable one-inch-tall shell, already lives there with his grandmother Connie (Isabella Rossellini) and their pet lint, Alan. Once part of a sprawling community of shells, Marcel and Connie live alone as the sole survivors of a mysterious tragedy. Taken with his unlikely new friend, Dean starts filming Marcel and his grandmother, igniting a meteoric rise to internet fame that changes their lives forever. But will Marcel's newfound sense of possibility and a throng of superfans be enough to track down his long-lost family?

Soulful, whimsical and intricately crafted, MARCEL THE SHELL WITH SHOES ON is the feature adaptation of Dean Fleischer Camp and Jenny Slate's popular series of short films and New York Times-bestselling books, and marks the big screen debut of the internet's most beloved mollusk.
There are currently no dates/times available for this film.
Cast & Crew
Actors
David Thorpe
Jenny Slate
Rosa Salazar
Isabella Rossellini
Lesley Stahl
Producers
Terry Leonard
Andrew Goldman
Caroline Kaplan
Elisabeth Holm
Dean Fleischer-Camp