Your friendly independent, licensed, multiplex cinema in South London and home to the £5.99 cinema ticket.
Saltburn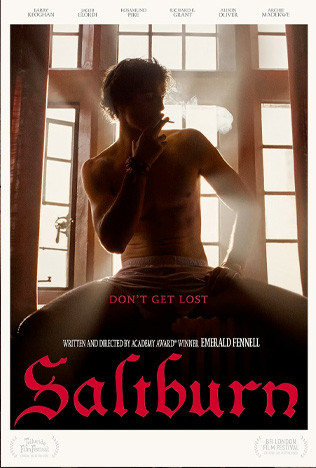 Release Date: Fri 17th Nov 23
Format: 2D Digital
Genre: Thriller
Running Time: 2 hours 11 minutes
Rate: 15
strong sex, nudity, sexual threat, drug misuse, very strong language
Free List Suspended
Wheelchair/Disabled Access
For more cinema access information
click here.
Saltburn Synopsis
Academy Award winning filmmaker Emerald Fennell (Promising Young Woman) brings us a beautifully wicked tale of privilege and desire. Struggling to find his place at Oxford University, student Oliver Quick (Barry Keoghan) finds himself drawn into the world of the charming and aristocratic Felix Catton (Jacob Elordi), who invites him to Saltburn, his eccentric family's sprawling estate, for a summer never to be forgotten.
Cast & Crew
Actors
Carey Mulligan
Barry Keoghan
Archie Madekwe
Jacob Elordi
Richard E. Grant
Alison Oliver
Rosamund Pike
Producers
Margot Robbie
Tom Ackerley
Josey McNamara
Emerald Fennell