Your friendly independent, licensed, multiplex cinema in South London and home to the £4.99 cinema ticket.
The Father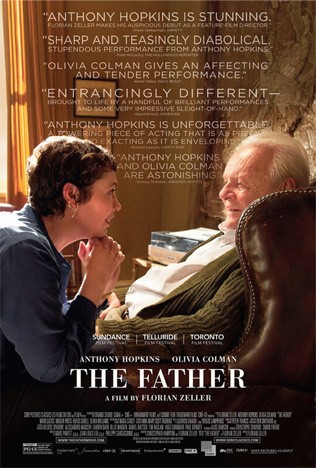 Release Date: Fri 11th Jun 21
Format: 2D Digital
Genre: Drama
Running Time: 1 hour 36 minutes
Rate: 12A
upsetting scenes, domestic abuse, infrequent strong language
Free List Suspended
Wheelchair/Disabled Access
For more cinema access information
click here.
The Father Synopsis
A man refuses all assistance from his daughter as he ages. As he tries to make sense of his changing circumstances, he begins to doubt his loved ones, his own mind and even the fabric of his reality.
Screening Types
00:00 Denotes a Regular Screening
00:00 Denotes a subtitled screening for the hard of hearing.
Book Tickets
---
Cast & Crew
Actors
Shawn Levy
Rila Fukushima
Dane Cook
Olivia Colman
Anthony Hopkins
Rufus Sewell
Ayesha Dharker
Producers
David Parfitt
Jean-Louis Livi
Philippe Carcassonne
Simon Friend
Christophe Spadone